Transporting diners to European shores for a laid-back dining experience by the water, Medi Terra at Marsa Al Bateen Marina in Abu Dhabi is now open to customers.
Serving up Mediterranean-inspired cuisine overlooking the serene waters of Marsa Al Bateen Marina, Medi Terra has officially opened doors to guests.
With an al fresco terrace reminiscent of coastal European hot spots during summertime, Medi Terra serves up laid-back vibes in a casual and inviting environment. Open for breakfast, lunch and dinner, the eatery prides itself on using only premium ingredients to create simple, high-quality and satisfying dishes that showcase fresh flavours from the Med, with a particular focus on Italian classics.
With idyllic, uninterrupted views over the marina, Medi Terra offers guests both indoor and outdoor seating for relaxing dining experiences and leisurely coffee breaks.
From the kitchen, diners can expect highlights dishes of calamari with lemon aioli, basil arancini filled with cheddar and mozzarella to start, as well as fresh salads of kale, fig and avocado with cranberry and lemon oregano dressing, and creamy burrata on a bed of red and yellow cherry tomatoes with arugula and balsamic reduction, plus more.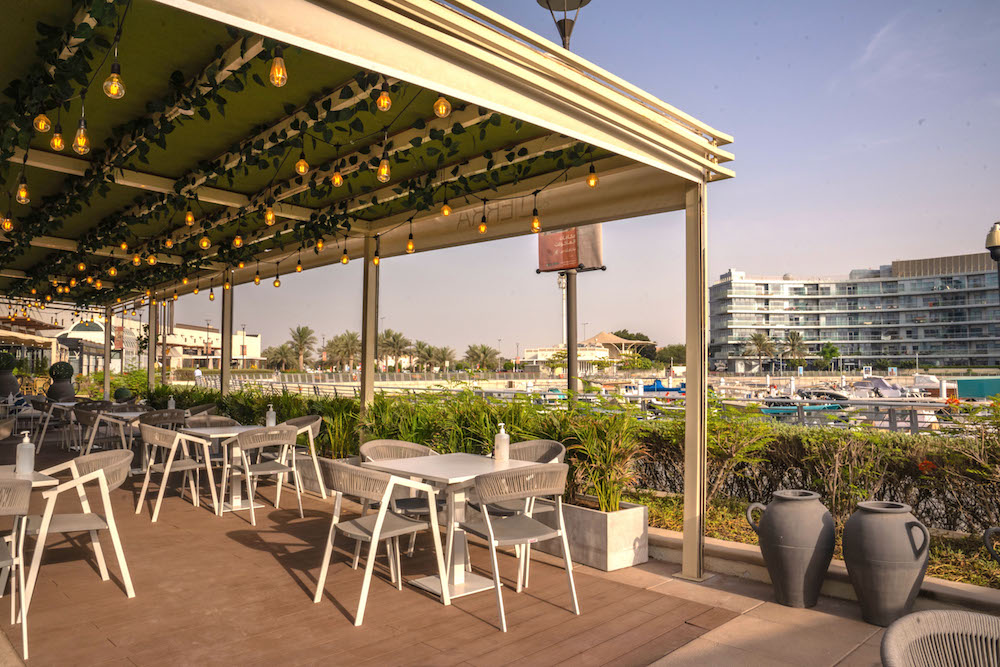 For a heartier bite, a selection of sliders, pizzas and pastas are available. The seafood linguini with scallops, shrimps, calamari and bisque is a surefire pleaser, as is the Medi Terra pizza topped with a feta and mozzarella mix, Kalamata olives, mushrooms and bell peppers.
While for main course, the beef tenderloin served with kale, mushrooms, crispy potatoes and parmesan pepper veal jus, and braised chicken alfredo pot are firm favourites.
Those with a sweet tooth will be well catered to with treats from the dessert counter such as indulgent tiramisu comprising generous layers of creamy mascarpone, cocoa, lady fingers and coffee, red velvet cake with vanilla custard and raspberry sauce, and coconut panna cotta with mango and almond foam.
The family-friendly restaurant also offers a kids' menu including options like penne alfredo, Margherita pizza, mozzarella sticks and more.
Commenting on the opening, Saeed Alshamisi, Owner & Operator of Medi Terra said: "We're incredibly excited to open Medi Terra. We're a family-run restaurant designed with families in mind, and seeing my passion project come to life is a blessing. Our opening plans were set back because of the pandemic, which forced us to close during our initial soft opening phase, so seeing the restaurant open now is incredible. I look forward to warmly welcoming all our future guests, and personally ensuring everyone has a great dining experience with us."
Medi Terra is located at the Marsa Al Bateen Marina in Abu Dhabi, United Arab Emirates, and is open from 12pm – 11pm on weekdays, and 10am – 12am on weekends, serving coffee, breakfast, lunch and dinner. During Ramadan, opening hours are 3pm – 1am on weekdays, and 3pm – 2am on weekends, with special iftar and suhoor menus available.
For more information or reservations, call 02 633 6366, or follow @mediterra_ad on social media.